Kootenay Blues Society's next show will feature the finest, Canadian Soul/Blues band in the land.
On  Tuesday, August 16 KBS presents Samantha Martin and Delta Sugar at the Balfour Beach Inn and the following night, Wednesday, August 17 they will appear at Finley's in Nelson. 
Samantha Martin & Delta Sugar are a 7-piece, Canadian band from Toronto, Ontario, who have garnered critical acclaim for their blend of blues, soul, gospel and rock, and exceptional vocals. Samantha Martin is a torrid force of nature, night after night she takes the audience to emotional peaks, while leaving them stunned with her sheer, pin-you-against-the-wall vocal prowess. Martin's voice, in combination with the vocal alchemy of the Delta Sugar backup singers, creates a vocal blend that is pure, unadulterated, gospel-infused, neuron-tingling magic!
A powerhouse band with vocals that will shake the foundations!
Please support blues in the Koots so that can we continue to bring you Canadian and International blues artists of the highest caliber.
If you wish to join our mailing list and be notified of upcoming events and shows please go here: https://www.kootenaybluessociety.com/contact-us . Subscribe by filling out your email address and hitting the SIGN UP button. Also, membership's are good for one year, so if your membership has lapsed and you wish to renew for another year, please go here:  https://www.kootenaybluessociety.com/membership  and you can find out how to re - up. It's only 10 bucks and well worth the money to support the Kootenay Blues Society.
 Every Friday night at 7 pm (show repeats at noon on Saturday), you can get your blues fix by listening to "Make Room For The Blues", with your host Richard Metzner on Kootenay Co op Radio:  https://www.kootenaycoopradio.com/make-room-for-the-blues/  
Sam Hurrie is at the BBI every Saturday @ 5 pm.
Check out the videos: David Vest, Mark Hummel's Golden State/ Lone Star Revue, H0ROJO Trio and The Kootenay Women's Blues Revue, "What Women Do"- ( written by Judy Brown). Video of "What Women Do" by Keith Holuboff at Finley's in Nelson, BC. Scroll down this page for more photos, videos and other info.
 Here is a link from a live stream blues show that took place on May 30/2020 from Greasland Studio's in San Jose, California with Alabama Mike and The Greaseland Allstars. This is a great, uplifting show, very well put together. Not to mention a band of dynamite blues cats. https://www.youtube.com/watch?time_continue=5&v=aPY9Zu_rly0&feature=emb_logo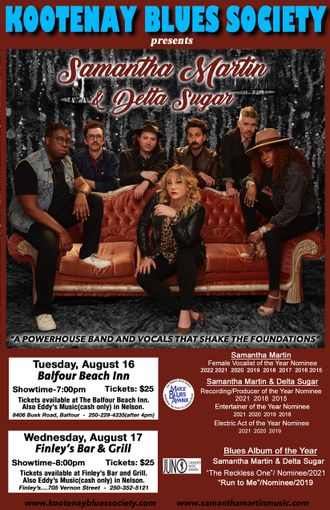 Sonny Rhodes, the hardest travellin' bluesman of them all, passed from this mortal realm on December, 14, 2021. 
Sonny Rhodes was born Clarence Edward Smith in Smithville, Texas, on November 3rd, 1940. He was the youngest of five children, whose parents, Leroy and Julia Smith, were sharecroppers.
Sonny was also a friend and mentor to many aspiring young musicians including Selwyn Birchwood, who credits Sonny with starting him on the blues highway. Early on in his career Sonny played bass for Freddie King, Albert Collins and John Lee Hooker before going out under his own name, playing guitar and singing then switching to the lap steel, which he became known for. Sonny counted blues greats such as Johnny Copeland and Albert Collins as close friends. 
The Kootenay Blues Society always enjoyed bringing Sonny to town and presented him more than any other blues artist. In fact, Sonny Rhodes was the first show ever presented by the society and he was brought back many times over the years. He will be missed by many, including us all here, who were blessed to see him perform and preach the gospel of the blues in the Kootenays.
Sonny leaves behind his wife Annie, children and grandchildren and the blues community worldwide.
One of the worlds finest guitarist's, Charlie Baty passed away on March 6th/2020 at 66. He was born in Alabama and had lived for sometime in California where, in 1976, he founded Little Charlie and The Nightcats with harmonica player and vocalist Rick Estrin. The jump band was popular on the urban blues circuit. 
In a long and successful career as a blues and jazz guitarist, he had recorded 14 albums, played with Muddy Waters, Gregg Allman, Boz Scaggs, Robert Cray, Albert Collins and Los Lobos, and on a 1987 tour, his band opened for bluesman John Lee Hooker in large, sold-out venues in Chicago and Kansas City. He'd toured every state, most of Europe, Australia, Canada, South America and even Russia and Turkey. 
Little Charlie had traveled to the Kootenay's with Mark Hummel and The Golden State/Lone Star Revue two years age and was scheduled to return here in June of 2020 to do a show with Alabama Mike.
Enjoy the video of Charlie doing what he did best. Playing incredible guitar.
Kootenay Womens Blues Revue photo's